POWEREX PRE-CHARGED BATTERIES (4 PCS AA) 2600MAH
Product ID: 8133
Questions about the product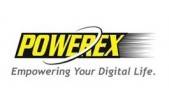 AA (LR06) NiMH batteries.
2600 mAh High Capacity.
Low self-discharge (LSD).
Ready to use (Ready2Use).
Includes organizer kit.
More info
POWEREX RECHARGEABLE BATTERIES POWEREX NIMH AA 2600MAH ALREADY PRECARCADAS
Battery Type: NiMH Rechargeable Battery
Size: AA
type Batteries Voltage: 1.2 V
Charging Capacity (Actual Maximum): 2600 mAh
Charging Capacity (Minimum): 2500 mAh
Dimensions: 14.4mm (Diameter) x 50.0mm (Height)
Construction: Metallic, leakproof and gas-tight
Presentation: Blister of 4 units with gift box
Questions
Questions
Be the first to ask a question about this product!
Customers who bought this product also bought:
More products to consider...