Me decidí por Duke tras los buenos comentarios que había leído de ellos y por sus precios. Pues no sólo me quedé con eso, sino que además recibí muy buen trato en compra online, facilidad de pago, envío puesto en casa en 3 días... Sin duda volveré a confiar en ellos en mis próximas compras.
1) Father's Day take the perfect gift a WONDERBOX box (2 days in family) or 1 tripod when you buy one of the following cameras
Eos 77D, Eos M50, Powershot G5X à Wonderbox two days in family
POWERSHOT SX70 HS, PowerShot SX740 Tripod Smile

Promotion valid from 1 March to 22 March 2019
URL: Www.canon.es/dia-del-padre

2) Promotion of reimbursement of the new CANON EOS RP + objective (see list below)
LENS                                                               CASHBACK
EF 24-105mm f/3.5-5.6 IS STM                      170 €

EF 70-300mm f/4-5.6 IS II USM                    100 €

EF 24-70mm f/4L IS USM                               150 €

EF 70-200mm f/4L IS II USM                         130 €

EF 16-35mm f/4L IS USM                               130 €

RF 35mm f/1.8 IS Macro STM                          80 €

RF 24-105mm f/4L IS                                    200 €

Valid from February 27th to June 30th, 2019
URL: www.canon.es/cameras/canon-eos-rp-promotion 
3) From today 15 February to 15 April to €550 reimbursement in a wide range of lenses, has never been easier.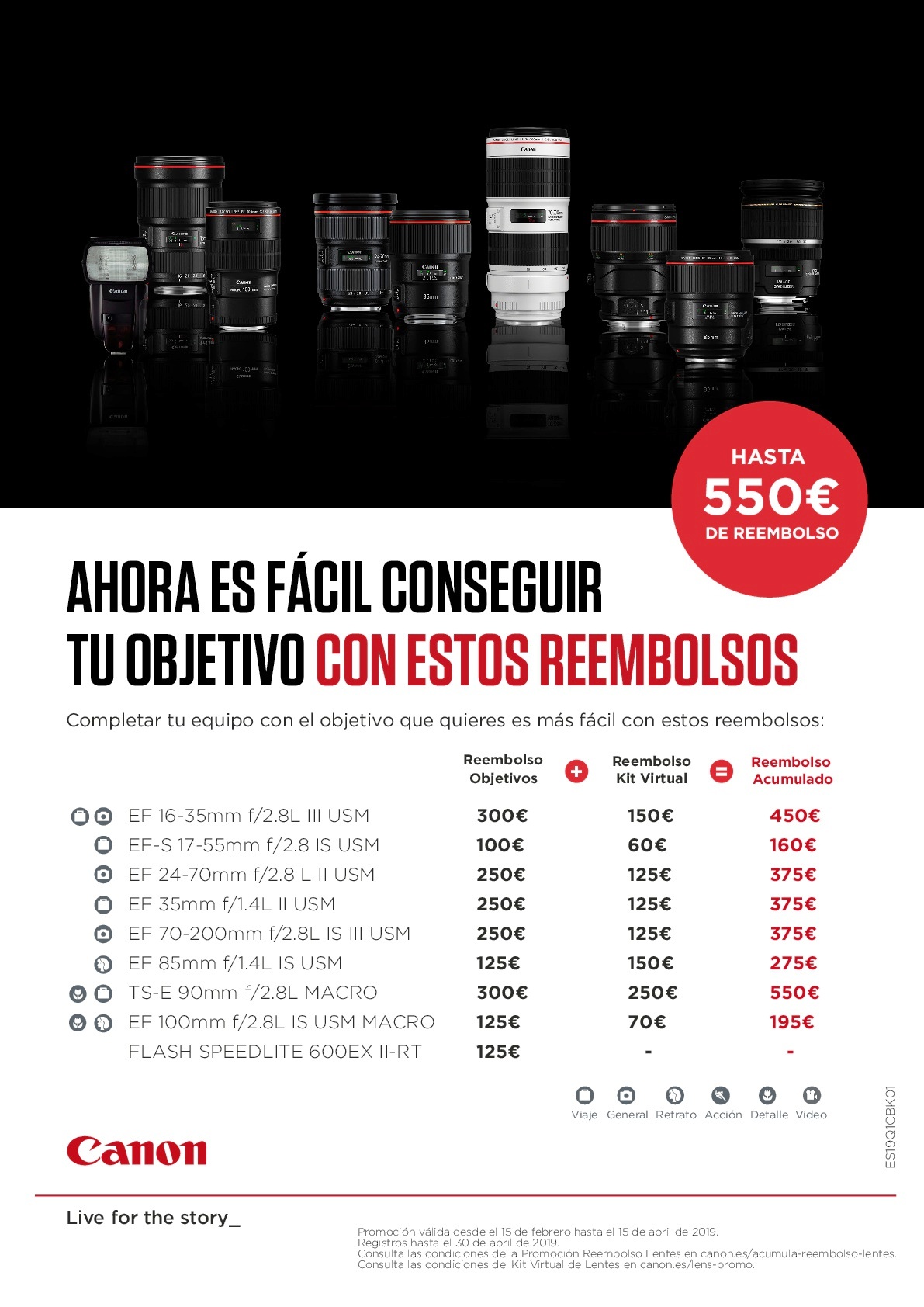 4) Test your lens for free
Canon and Duke offers you the opportunity to try one of these 4 lens free for 3 days, what better way to be 100% safe before buying
We also offer a body of the Canon EOS 6d MKII or EOS R.
5) VIP MAINTENANCE FREE PROMOTION SER PLUS FOR 1 YEAR

WHAT DOES THE VIP MAINTENANCE CONTRACT INCLUDE?
Features of the VIP contract for CANON cameras and lenses
Repairs of all types (including falls, blows, etc.) free of charge for labour and parts provided the equipment is repairable (1)

Internal cleaning (except caused by fungus) and focus adjustments (preventive maintenance).

Firmware updates or advice to be carried out by the user.

Specific and professional technical support and customer service for advice on breakdowns and repairs carried out.

Optical, mechanical and electrical adjustments of the contracted equipment.

Priority for repairs with a maximum repair time of 5 working days (2) or the possibility of borrowing similar equipment (3) if this time is exceeded.

Free collection and delivery service within the national territory (Peninsula and Balearic Islands).

It does not include changes of elements that do not affect the operation of the equipment, such as scratched covers and other aesthetic elements, which can be replaced at a charge.

WHO OFFERS THE SERVICE?

The services described in this contract will be provided by SerPlus Barcelona or SerPlus Madrid, the only Official Canon Service Centres in Spain.

WHAT DO I HAVE TO DO IF I NEED VIP MAINTENANCE SERVICE?

Procedure for requesting the service

When your equipment needs a repair, cleaning, adjustment, etc. service, you can request it by any of the following means:

Going to the SerPlus Barcelona facilities, in calle Dos de maig, 220 (between C/ Aragón and C/ Valencia) (Metro L2 stop "Encants").

Going to SerPlus Madrid, in Avenida Pablo Iglesias, 8 (in front of Parque de Santander) (Metro L1 stop "Ríos Rosas" or L1-L2-L6 stop "Cuatro Caminos").

By calling 902 020 060 and requesting collection from the address of your choice free of charge (4).

Entering in the Web www.serplus.es/recogida-a-domicilio.html and requesting the collection in the domicile that wishes of totally free form (4).

4) Service available only for the Peninsula and the Balearic Islands Transfer In case of sale of the contracted equipment where the benefit of this contract is transferred to a third party, the data of the new beneficiary must be informed on 902 020 060 in order to be able to register them and therefore be able to benefit from the benefits offered in this contract.

Exclusions

The customer undertakes to use and maintain the equipment in accordance with the manufacturer's instructions. Any improper use or maintenance could lead to the termination of the validity of the performance of this maintenance contract.

Data protection

For these purposes, in accordance with the provisions of Organic Law 15/1999, of 13 December, on the Protection of Personal Data, the personal data provided by customers, for the provision of the service, will be inserted into the automated files of personal data created by Servicios Técnicos Electrónicos, S.A. Customers may, in writing, exercise their rights of access, rectification and cancellation within the scope recognized by the aforementioned Law on the Protection of Personal Data, through the channels of the provisions of R.D. 1720/2007, of 21 December before those responsible for those responsible for the service, by means of R.D. 1720/2007, of 21 December.
1) It is understood that a piece of equipment cannot be repaired when there are no parts available for repair because they are no longer available or because the cost of the necessary parts exceeds 70% of the value of a new piece of equipment with similar characteristics at the time of repair.
2) The repair time is measured from the receipt of the equipment in SerPlus until the notification of repair.
3) The loan service must be requested by the client and is subject to the availability of equipment available at the time of request.
6) VIRTUAL PROMO KIT - THIS OFFER IS NOW PERMANENT
ENJOY A REFUND OF UP TO 500 EUROS WITH THE PURCHASE OF A GOAL WHEN CREATING YOUR VIRTUAL KIT https://www.canon.es/lens-promo/
OBJECTIVES INCLUDED IN THE PROMOTION
<FONT COLOR="#FFFF00">-==- SYNC:ßÇÈÂÈÂ
<FONT COLOR="#FFFF00">-==- SYNC:ßÇÈÂÈÂ
EF 85MM F1.2L II USM € 125
EF 85MM F1.8 USM € 50
EF 200MM F2.8L II USM € 100
EF 400MM F5.6L USM € 125
EF 8-15MM F4L USM € 150
EF 16-35MM F4L IS USM € 75
EF 16-35MM F2.8L III USM € 150
EF 17-40MM F4 L USM € 150
EF 24-70MM F2.8L II USM € 125
EF 24-70MM F4L IS USM € 100
EF 24-105MM F3.5-5.6 IS STM € 60
EF 28-300MM F3.5-5.6L IS USM € 300
EF 70-200MM F4 L USM € 80
EF 70-200MM F4L IS USM € 80
EF 70-200MM F2.8L USM € 150
EF 70-200MM F2.8L IS USM II € 125
EF 70-300MM F4-5.6L IS USM € 100
EF 100-400MM F4.5-5.6L IS II USM € 125
EF 100MM F2.8L MACRO IS USM € 70
EF 100MM F2.8 MACRO USM €70
EF-S 17-55MM F2.8 IS USM € 70
EF-S 18-55MM F3.5-5.6 IS STM € 35
EF-S 18-200 F3.5-5.6 IS € 50
EF-S 10-22MM F3.5-4.5 USM € 80
EF-S 10-18MM F4.5-5.6 IS STM € 20
EF-S 15-85MM F3.5-5.6 IS USM € 100
<FONT COLOR="#FFFF00">-==- SYNC:ßÇÈÂÈÂ
<FONT COLOR=#38B0DE>-==- PROUDLY PRESENTS
EF 50MM F1.2 L USM € 100