PROFOTO B1X To-Go Kit 500 AIR TTL
Product ID: 8266
Questions about the product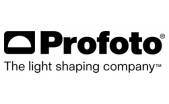 Shoot with AirTTL or normal mode and connect wirelessly with other AirTTL flashes.
- Wireless design and Wifi controls let you shoot without restrictions.
- 10 times more powerful than standard speedlights, with 500 W adjustable in 1/10 f-stop increments above a 9 f-stop power range.
- The rechargeable lithium-ion battery provides up to 325 flashes at maximum power and tens of thousands at minimum power.
- Shoot up to 20 flashes per second, with flash durations of up to 1/19,000 s and fast discharge times of 0.05 to 1.9 s.
- Control ambient light with HSS and create razor-sharp, motion-free images at shutter speeds up to 1/8000 s.
- It can be wirelessly controlled from a range of up to 300 m with any optional Air Remote.
By buying this product you can collect up to 19 loyalty points. Your cart will total 19 points that can be converted into a voucher of 19,00€. For every 100€ of purchase you get 1 point = 1€. The vouchers represent a discount of up to 10% of the amount of the cart.
Customers who bought this product also bought: