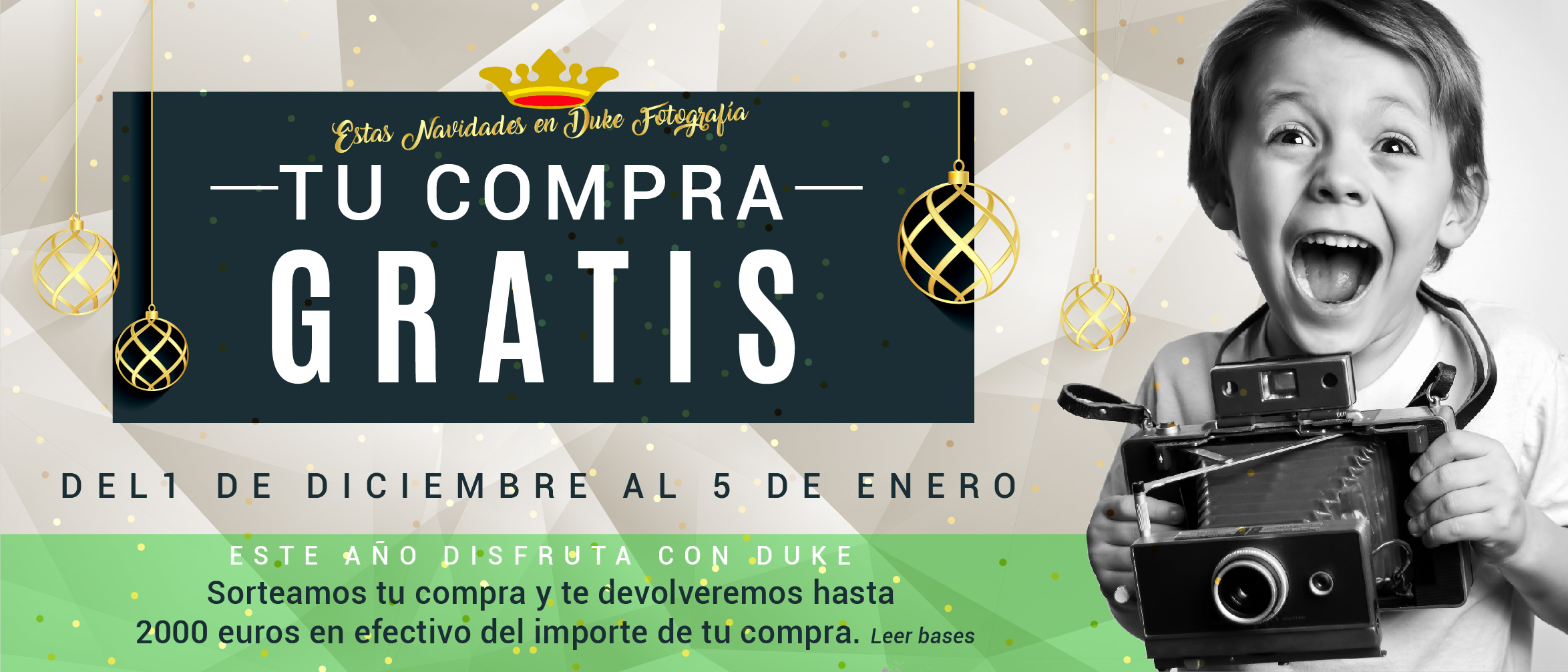 RULES OF THE DRAW - YOUR FREE PURCHASE
I.- Purpose
DUKE TRADING S.L. (hereinafter DUKE PHOTO), organizes the promotion:
"YOUR FREE PURCHASE" with the cash refund prize of the purchase amount up to a maximum of 2000 EUROS if the invoice or ticket number is the winning number. All physical persons who meet the requirements stipulated in the following rules can participate. (Continue reading)
II.- Conditions of participation
1. The draw is open to all natural persons of legal age who, between December 01, 2018 and January 05, 2019, inclusive, purchased at DUKEFOTOGRAFIA.COM or at the physical store at 24 Ripoche Street.
2. Those participations that are excluded from the draw will not be valid:
They are carried out after the indicated period
Do not meet the requirements for participation
Contain false or erroneous data.
3. To participate you need to be a follower of Duke Fotografía's profile on Facebook, Instagram or Twitter.
4. The winner must be a follower of Duke Fotografía's profile on Facebook, Intagram or Twitter at the time the winner is chosen.
III.- Drawing of lots
1. All the numbers of invoices and tickets from 01-12-2018 to 05-01-2019 will be entered in the draw that takes place before the notary Mr. Manuel Guzmán Ramos or Mr. José del Cerro Peñalver of the Notary's office Guzmán and of the Hill of Las Palmas of G.C.
2. The draw will be held on January 15, 2019 at 13.00 hours.
IV.- Communication of the result and awarding of the prize
1. The invoice number or winning ticket will be published on our website www.dukefotografia.com and our Facebook/Instagram/Twitter profile within 24 hours after the draw has taken place.
2. The owner of the winning invoice/ticket number will have until 20 January 2019 to claim his prize by providing the original sales document (invoice or ticket) and proof that he is a follower of DUKE PHOTOGRAPHY in FACEBOOK, INSTAGRAM or TWITTER. If no one claims the prize on the dates indicated, the prize corresponding to him will be void.
3. DUKE PHOTOGRAPHY will return to the winner in cash or transfer the total amount of his purchase up to a maximum limit of 2000 EUROS.
4. The winner of the sweepstakes accepts and authorises the mention of his name and prize obtained to appear on the www.dukefotografia.com website or on any other commercial, advertising, social network or communication medium that Duke Fotografía may use in order to inform and make public the result of the sweepstakes carried out.