SEVENOAK HAND STABILIZER SK-H02
Product ID: 8290
Questions about the product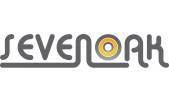 Camera stabilizer DLSR or CSC SK-H02
Reduce and eliminate vibrations from your videos
With one spirit level included
Resistant to the weight of your camera and durable
Connect your accessories to the stabilizer
Lightweight, ideal for smooth movements
With ergonomic handle
More info
Sevenoak SK-H02

Hand

stabilizer

for shoe

For all lovers of video on the move, who are always recording all their videos camera in hand and this arto that there is always too much noise in the image, leaving it with too much movement that sometimes even tides, we bring the ultimate accessory for your film shots, the video stabilizer Sevenoak SK-H02, an indispensable companion for all those who need their tomás are perfect. You can make videos with total precision, becoming the envy of all.
SK-H02 video stabilizer, for your Sevenoak DSLR or CSC camera
With 1/4" and 3/8" holes around your body
Connect all the accessories you need
Smoothes the movement of your camera in an efficient way
With a load capacity of up to 4 kg
Includes a spirit level, ideal for balancing your videos
Comfortable ergonomic handle that adapts to your hand
Upper shoe added to attach more accessories
Questions
Questions
Be the first to ask a question about this product!
Customers who bought this product also bought: