YONGNUO FLASH ANNULAR FOR CANON YN24EX
Product ID: 8206
Questions about the product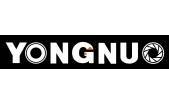 Yongnuo Flash for Macro Photography with TTL system for Canon

2 ways to set and use the Yongnuo YN24ex - Multifunction

AF auxiliary LED light with two levels for fast and precise focusing

Wide flash illumination coverage

INCLUDES

1x Flash Yongnuo YN-24EX

4x 52mm, 58mm, 67mm and 72mm flash rings.

1x Carrying bag
By buying this product you can collect up to 1 loyalty point. Your cart will total 1 point that can be converted into a voucher of 1,00€. For every 100€ of purchase you get 1 point = 1€. The vouchers represent a discount of up to 10% of the amount of the cart.
More info
Yongnuo YN24EX - Multifunctional flash for Canon, black colour
The Yongnuo YN-24EX is a professional macro flash of the latest generation. It has a power of 24GN measured at ISO 100 and 105mm with two flash heads to be able to control the shadows easily. It also incorporates a LED light to help the focus in situations where the brightness is very low
SPECS
Power 24 GN (ISO 100, 105mm).
TTL shot.
FEC (flash exposure compensation), FEB (flash exposure bracketing), FEL (flash exposure lock), second curtain sync.
Double flash head which can be adjusted individually.
Adjustment in 8 power levels, from 1/1 to 1/128, can also be controlled by 1/3 light.
Vertical angle: 90° up and down;
Horizontal angle: 60° inwards and 30° outwards.
Rotation of the mounting ring: 50° upwards and 30° downwards.
Flash recycling at full power in 3 seconds.
LED auxiliary light for focusing aid.
It has a Pc Sync input to be able to synchronize it with other flashes.
Compatible with 52mm, 58mm, 67mm and 72mm lenses (ask if another adapter ring is needed)
Sound warning system.
With connection for external power supplies
Questions
Questions
Be the first to ask a question about this product!
Customers who bought this product also bought: