PHOTTIX INDRA 360 TTL LIGHT STUDIO
Product ID: 10140
Questions about the product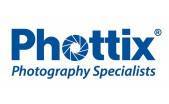 360W stroboscopic study
TTL, manual and strobe modes.
1 / 8,000 sec. synchronization speed possible
Power variable from 1/128 to Full
Built-in Odin Receivers for Nikon, Canon
Built-in Phottix Strato II receiver
LED modeling light
Optional multi-voltage AC adapter
Battery included: 300 high power flashes
By buying this product you can collect up to 6 loyalty points. Your cart will total 6 points that can be converted into a voucher of 6,00€. For every 100€ of purchase you get 1 point = 1€. The vouchers represent a discount of up to 10% of the amount of the cart.
More info
Phottix Indra360 TTL Studio Light
For photographers who want to shoot wirelessly, Phottix Indra360 TTL battery-powered studio light offers a design driven by portability, flexibility and power. This light can remain wirelessly synchronized, and therefore hassle-free, thanks to the built-in Odin receivers for Nikon and Canon cameras, and by using the included 4,000 mAh rechargeable battery, the shooters can eliminate the need for AC cable while delivering up to 300 flashes of full power.
Phottix starts with a flash head with all the qualities of a studio flash, such as 360W of power, adjustable from 1/128 to full power in a range of 8 stops. the recycling time is 2 seconds to full power with the included lithium ion battery and 0.1 to 1 second with the optional AC adapter. the durations of the flashes that stop the action are possible with reduced power settings to freeze splashes or sports shots at peak times. the light can be activated at distances of up to 328 'thanks to the radio receivers thanks to the radio receivers. the light can be activated at distances of up to 328 'thanks to the radio receivers radio.
This would be an impressive flash if Phottix had stopped there, but the Indra360 is also TTL compatible with Nikon and Canon cameras, giving photographers a smooth exposure transition in rapidly changing light conditions using their camera's automatic exposure technology. using the optional transmitter, TTL power can be adjusted remotely +/- 3 EV, while manual mode has an extended range of 8 stops. the Indra360 TTL is shipped with an umbrella reflector with a Bowens bracket. other accessories such as an s s s Bowens. other accessories such as a s s Bowens bracket are also available.
TTL with Canon and Nikon Cameras
Most studio lights operate only in manual camera modes, limiting their use in fast-moving environments. The Indra360 TTL opens up new creative possibilities, allowing photographers to shoot in shutter priority and aperture modes while taking advantage of their camera's auto-exposure technology
High synchronization speeds
Traditional studio lights have sync speeds limited to 1 / 200-1 / 250 seconds, making flash balance and ambient light levels problematic. Phottix Indra's high-speed sync function allows speeds of up to 1 / 8,000 sec. for a much wider exposure latitude
Second synchronization curtain
Second curtain sync function fires the flash at the end of the exposure instead of the beginning, allowing the use of slow shutter speeds to create a natural-looking blur behind moving subjects
Flash bracketing
Instead of altering the appearance of your shot by changing its aperture or shutter speed, allow the Indra to automatically vary its power to obtain lighter, darker shots around your main exposure
Strobe mode
This mode allows you to capture sequential action by varying Hertz speed from 1-100 Hz and flash frequency from 1-100 times per exposure
Built-in Triggering
Adjust the TTL +/- 3 EV exposure compensation or adjust the power 1/3 or full stops in a range of 8 stops in manual mode from up to 328' away with an optional Odin transmitter. Indra has incorporated Odin receivers for Nikon and Canon cameras. Phottix Strato II users can also activate the Indra360, but only in manual mode
Software Updates
The Indra360 TTL offers a USB port for future firmware upgrades. As the camera technology changes, Indra can change along with it
SPECS
Maximum Watts / Seconds
360 Ws
Recycling time
With optional AC adapter: 0.1 - 1.0 sec.
With included battery: 0.1 - 2.0 sec.
Input power
Optional AC adapter: 110 - 220 VAC, 50/60 Hz
Battery pack included: 4,000 mAh, 300 full power flashes
Flash duration
1/250 - 1 / 15,000 sec @ t.1
Maximum synchronization speed
Up to 1 / 8,000 sec.
Flash Variability
With Nikon and Canon
TTL cameras: +/- 3 EV in 1/3 stop increments
Manual: 8 stops: full at 1/128 power at 1/3 or 1 stop stop
Modes

Strobe of the second strobe curtain: frequency: 1-100 Hz, flash count: 1-100
flash
bracket Flash exposure compensation
Interchangeable reflector
Yes, I do
Color temperature
5,500 K (+/- 200 K)
Modeling light wattage
4.5 W LED, on, off, manual
Monitor
Color TFT LCD
Voltage stabilization
Yes, I do
Ready flash indicator
Visual, audible
Built-in slave cell

Optical slave radio, 4 channels: Odin (TTL) and Strato II (manual) transmitters, flash Mitros +, 3.5 mm
synchronization port Radio range: 328 '(100 m)
Fan-cooled
Yes, I do
Automatic tipping
Yes, I do
Dimensions
10.5 x 7.5 x 5.5 "(267 x 190 x 140 mm)
Weight
4.6 lb (2.1 kg) without power cord
Packaging Information
package weight
16.7 lbs
Box dimensions (LxWxH)
17.3 x 14.8 x 10.3"
Questions
Questions
Be the first to ask a question about this product!