DTI BATTERY DTL-Li40B/42B LI-ION 3.6V - 630mAh.
Product ID: 1711
EAN: 8435067507209
Questions about the product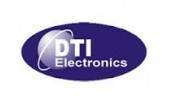 BRAND NAME: DTI ELECTRONICS
Compatible for:
Fujifilm finepix: Z10fd, Z20fd, J10.Nikon Coolpix: S600
Olympus: FE-340, FE-150, FE-250, FE-350, FE-360, FE-280, mju 840, mju 850SW.
Sanyo:VPC-S760, VPC-T700
Questions
Questions
Be the first to ask a question about this product!
More products to consider...