BENRO INCOGNITO BACKPACK S10 BLACK (BLACK)
Product ID: 8099
Questions about the product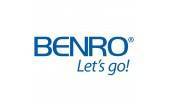 Available in two configurations, backpack or shoulder bag.
All bags are designed to carry a DSLR or mirrorless camera with a variety of lenses and accessories.
It has compartments and dividers, plus external pockets for spare batteries and memory cards.
External size: 26 x 25 x 14 cm
Internal size: 10 x 17,9 x 17 cm
More info
BENRO INCOGNITO BAG S10 BLACK (BLACK)
The Incognito series means discreet and safe transportation of your camera equipment. Personal items such as smart phones, cards, keys, etc., can also be accommodated. DSLR or mirrorless cameras and various lenses and accessories fit into the bags
With padded compartments that cannot be separated individually, your equipment is well protected. Spare batteries and memory cards can be stored in the outer pockets. The compartment for the camera equipment is located at the bottom of the bag and can be accessed from the back to ensure maximum security.
Your personal belongings will find their place at the top of the bag and stored by a shutter system. The two compartments are separated with a Velcro partition. By removing the Velcro partition, a larger outfit is enough space in your pocket.
Questions
Questions
Be the first to ask a question about this product!
Customers who bought this product also bought: