CATALYST SUPPORT FOR CARACASA I PHONE 6/6S
Product ID: 7681
Questions about the product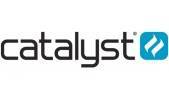 Compatible with standard Go ProTripods
Fits a bar from 17mm to 32mm in diameter
Adjustable 360 degrees
Safe with sliding lock
Maximum safety fastening for adventure sports
Exclusive for Catalyst cases for iPhone 6/ iPhone 6S
More info
Catalyst Multi-Sport Support for iPhone 6, iPhone 6S

CATALYST Multi-Sport mount - essential accessory for outdoor activities designed to adapt to your Catalyst case. So you can use it in any sport.

Features:
- Ultra-versatile and practical
stand - Keeps your Catalyst case well positioned facing forward or backward
- Places the case in any position to get the perfect
photo - Swivel bracket allows 360 degree
rotation - Keeps your device secure thanks to the sliding
lock - Can be fixed to a standard tripod through the screw
thread - Compatible with GoPro
stands - Fits bars with diameters between 17 and 32 mm
- This stand is compatible only with Catalyst cases for your iPhone 6/6S
Questions
Questions
Be the first to ask a question about this product!
More products to consider...